Mr. Muhammad Jahangir Mir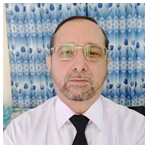 Mr. Muhammad Jahangir Mir was appointed as a Civil Judge in 1990. He served as Civil Judge/ Judicial Magistrate in 30 different districts of Punjab. He was promoted to Senior Civil Judge in 2006. He has also worked as Additional District & Session Judge for about 07 years and was promoted to District & Session Judge. He has served as Judge/ Presiding Officer in Punjab Labour Court, Punjab Social Security Court and Consumer Court. He has also served as Assistant Returning Officer/ Returning Officer in all election held during his service. He has worked as Appellate Authority under the Election Laws.

He holds B.A, LLB, and B.ED. He has attended different courses organized by Islamic International University, Islamabad; Pakistan Administrative Staff College, Lahore; Punjab Judicial Academy, Lahore and Federal Judicial Academy, Islamabad. He has joined Federal Service Tribunal on 22.12.2017.