Mr. Muhammad Javed Ghani, Honourable Member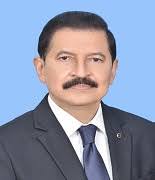 Mr. Muhammad Javed Ghani, joined the Federal Service Tribunal, as Executive Member in November 2021. Prior to that, he served in the Federal Government for over thirty seven (37) years and retired in April 2021 as Chairman, Federal Board of Revenue, and Secretary Revenue Division, Government of Pakistan (BS-22), as head of both Customs and Inland Revenue departments. In between, he briefly served in the Federal Tax Ombudsman Secretariat, as Senior Advisor, from July-October 2021.
As head of FBR, he had the responsibility for formulation and administration of fiscal policies, levy and collection of federal duties, taxes and other levies, and quasi-judicial function of deciding taxation cases and appeals as well as decisions in service related matters of the Federal Civil Servants.
Earlier during his career, he had worked on various senior and mid-level policy making as well as operational positions and dealt with various Customs reforms and modernisation initiatives in collaboration with the World Bank, Asian Development, USAID, PREIA, DFID, etc. which included simplification of laws and procedures as well as restructuring of field formations. Besides, he remained actively involved in the Customs Risk Management, Post Clearance Audit, Customs Valuation and Automation. In addition, he worked on various trade facilitation initiatives which included Authorised Economic Operatives Programme, Advance Rulings, Revised Kyoto Convention, TIR Convention and smoothening of cross border trade.
He holds Master of Laws Degree (LLM), with Distinction, from the Warwick University, United Kingdom, and Master's Degree in Economics, with Distinction, from the Government College (Punjab University), Lahore.
He is the author of various articles and research papers which include, "Developing Web of International Economic Corridors & Pakistan", "Review of Afghanistan Pakistan Transit Trade", "WTO, Trade Facilitation and Pakistan Customs", "Trade Facilitation Negotiations in the WTO, the divisions, crucial elements and the best way forward", "The definition of Geographical Indications in the TRIPS (Trade Related Aspects of Intellectual Property Rights) Agreement in relation to the ongoing debate in the WTO on expanding the scope of Article 23", and "Electronic Filing of the Goods Declarations in One-Customs and the Legal Gaps".
He has attended various international conferences, seminars and training courses in countries including Azerbaijan, Bangladesh, Belgium, Canada, China, France, Japan, Kazakhstan, Phillippines, Russia, South Korea, Tajikistan, Thailand, Turkey, United Kingdom, and the United States.