Mr. Sikander ismail khan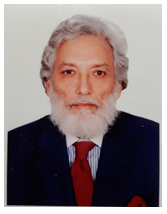 Mr. Sikander Ismail Khan belongs to the Secretarial Group. He holds Post Graduate degree in Political Science from Government College Lahore. During his distinguished career spanning over 30 years, he held key management and policy making positions in the Federal Secretariat which include Federal Secretary, M/o Overseas Pakistani's and Human Resource Development, Additional Secretary Incharge, M/o Religious Affairs and Interfaith Harmony, Senior Joint Secretary, M/o National Food Security, Research and Livestock, Senior Joint Secretary, Prime Minister's Office and Director General, National Assembly Secretariat.

He also served as Community Welfare Attache (CWA) Pakistan High Commission, Kuala Lumpur (Malaysia) and as a Mid Career Officer he also held various important assignments in Establishment Division, M/o Information Technology and Telecommunication, M/o Food & Agriculture. On 18th July, 2015 after attaining the age of superannuation he retired from the post of Federal Secretary and appointed as Senior Advisor Wafaqi Mohtasib Secretariat.

He was also nominated to attend the Executive Leadership Development Programme at Kennedy School of Public Policy, Harvard University, USA and also attended other mandatory and optional courses relating to Public Policy and Management. He had the honour to represent Pakistan in 3rd Ministerial consultation of Abu Dhabi Dialogue in Kuwait in 2014, Governing Body Meeting of International Labour Organization at Geneva and International Labour Conference at Geneva in 2015.

He also attended seminars and courses organized under Korean International Cooperation Agency, South Korea in 2001, Commonwealth Parliamentary Association at London UK, in 2007, Wroxton College, Oxford Shire UK in 2006 and at Paris in April, 2005.

Mr. Sikander Ismail Khan, assumed the charge as Member in the Federal Service Tribunal, Islamabad on 22.12.2017.